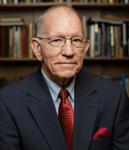 Albert N. Martin
May I encourage you to follow with me in your own Bibles as I read two portions of the Word of God—both from the pen of Dr. Luke, as he was guided by the Holy Spirit. But first in Acts chapter 1; and then we shall read a very brief portion from the 21st chapter of the Gospel of Luke. The Book of Acts chapter 1, and I shall read the first twelve verses, with reference, of course, to what we now know as the Gospel of Luke:
The former treatise I made, O Theophilus, concerning all that Jesus began both to do and to teach, until the day in which he was received up, after that he had given commandment from the Holy Spirit unto the apostles whom he had chosen: to whom he also showed himself alive after his passion by many proofs, appearing unto them by the space of forty days, and speaking the things concerning the kingdom of God: and, being assembled together with them, he charged them not to depart from Jerusalem, but to wait for the promise of the Father, which, said he, ye heard from me: for John indeed baptized with water; but you shall be baptized in the Holy Spirit not many days hence.

They therefore, when they were come together, asked him, saying, 'Lord, do you at this time restore the kingdom to Israel?' And he said unto them, 'It is not for you to know times or seasons, which the Father hath set within his own authority. But you shall receive power, when the Holy Spirit is come upon you: and you shall be my witnesses both in Jerusalem, and in all Judaea and Samaria, and unto the uttermost part of the earth.' And when he had said these things, as they were looking, he was taken up; and a cloud received him out of their sight. And while they were looking steadfastly into heaven as he went, behold two men stood by them in white apparel; who also said, 'You men of Galilee, why stand you looking into heaven? This Jesus, who was received up from you into heaven, shall so come in like manner as ye beheld him going into heaven.' Then returned they unto Jerusalem from the mount called Olivet, which is nigh unto Jerusalem, a sabbath day's journey off.
Now Luke chapter 24, remembering that it was the one man who by the guidance of the Holy Spirit we see this supplemental information given to us by Luke. We may regard it as a supplement to the account in Acts, or the Acts 1 passage, as an expansion of the word recorded. Verse 50 and 51 of Luke 24:
"And he led them out until they were over against Bethany: and he lifted up his hands, and blessed them. And it came to pass, while he blessed them, he parted from them,and was carried up into heaven."
Now turning back to the Acts 1 passage and having it before us, according to this passage read in your hearing, the eleven apostles had no doubt whatsoever that their Lord had indeed risen from the dead. You will remember that although they were reluctant to believe the initial report of His resurrection—a report which came to them by some women who had visited the empty tomb early on that first Easter morning—the Lord Jesus had spent no fewer than forty days subsequent to His death and resurrection, repeatedly appearing to the eleven and spending time with them. During these post-resurrection meetings with the apostles, our Lord was continually giving them further instruction concerning the Kingdom of God.
Luke tells us that in this period He was found repeatedly speaking concerning the Kingdom of God, and on the last of these post-resurrection appearances, they ask a question concerning Israel and the Kingdom. Our Lord responds with a final statement concerning the Coming of the Holy Spirit and the subsequent, divine program for world-wide witness.
Then, according to the supplemental material found in Luke's gospel (in chapter 24, verses 50 and 51) our Lord takes this company out with Him to the Mount of Olives (Acts 1:12, a place near Bethany), then He raises His hands in priestly blessing, and as He begins to bless them—perhaps using the very aaronic blessing that they had heard many times in their life experience. That blessing recorded in the Word of God to be pronounced by the priest at the conclusion of their ritual of worship. As our Lord's hands are raised, and as He is blessing them, He begins to rise, to levitate before their very eyes. Unlike the sudden appearances and disappearances that had marked some of His post-resurrection interaction with them—this was no sudden disappearance. The Scriptures are clear that our Lord began to rise certainly, but slowly in their very presence. Like a slow-moving elevator, they saw our Lord beginning to rise before their very eyes.
As His hands are raised over them in priestly blessing, while He is pronouncing that blessing, He begins to ascend upward and upward and upward until, Luke tells us in Acts chapter 1, a cloud envelops Him and hides Him from their view.
Now, put yourself in their place. Suppose you had been one of these eleven. For months and even several years references to the fact that your Master was going to die didn't register, then they began to register; then you witnessed Him being apprehended in the Garden, hauled off like a common criminal: first of all before the high priest, then before Pilate and off to Herod and back to Pilate. Mocked and jeered and beaten and blows upon His head and face at the hands of the soldiers. Then the mockery and rejection of the masses; the instigation of the religious leaders. You had seen all of this. You knew your Lord had been impaled upon a cross. This instrument of sadistic execution that was used by the Romans for the lowest dregs of society.
You had heard that after three days He had been raised from the dead! At first you wouldn't believe it. After a period of time, your unbelief and your doubts are all dissipated, because you've seen Him take some broiled fish in your very presence and eat it. You've seen Him stretch out His hands, turn to Thomas and say, "Reach hither your finger and thrust it into my thigh. See? It is indeed Jesus! That's who I am." As you had begun to get acclimated to the fact that your Lord who had truly been crucified, who had been truly raised from the dead, was the Living Christ and yet, possessed properties that He never had before. You had heard the story of how the two on the road to Emmaus had a companion. While they sit and eat with that companion, suddenly He disappears. You had been with the apostles in that room where the door [was] shut and locked and suddenly the Lord appeared in their midst! You had begun to be acclimated, not only to the reality that He was the Living Christ and that in the life of His resurrection existence He possessed properties that were unique to that resurrection life. You had just begun to get acclimated to all of this, but in all of that, when you were with Him and you were walking his feet stayed on the ground. When you were sitting and talking, His seat stayed on the seat.
Now, after all of these unusual events, suddenly this very One who is raising His hands and pronouncing blessing upon you begins to rise and rise and rise and rise, until He's enveloped in a cloud. Let me ask you: what would you do?
You do exactly what they did. The Scripture tells us in verse 1 of Acts 1, "While they were looking steadfastly into heaven." [They were] standing there bug-eyed, transfixed. "Can we believe what we are seeing? We have not been interacting with an apparition or a ghost for forty days. It is our Jesus, crucified, risen from the dead! It is our Jesus in true, human existence, albeit resurrected body, a body that possesses properties that were not evident prior to the Resurrection, but He is nonetheless our Jesus; whose body seems to be influenced by specific gravity, as our body is influenced. In our walks with Him, even though He may have disappeared suddenly and appeared suddenly, we never saw Him six inches or a foot or two feet above the ground! He's always been on terra firma with us!" But now He is rising before their very eyes.
No wonder their eyes were fixed steadfastly upon Him while He is going up into Heaven! As they are standing their with their eyes transfixed upon Him, suddenly two men appear.
Bible References: Acts 1:1-12; Luke 24:50-51