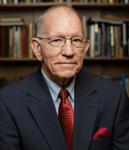 Albert N. Martin
1 Thessalonians 1:9-10. Eagerly awaiting Christ's return is a distinct evidence of true conversion. Let me give you that one again. According to 1 Thessalonians 1:9-10, eagerly awaiting Christ's return is a distinct evidence of true conversion. Turn with me please to 1 Thessalonians chapter 1.
After an ordinary greeting brought by Paul, Silas, and Timothy to the church of the Thessalonians, Paul in verse 2, as he often does, records his prayers of thanksgiving for the Thessalonian believers. He tells them, "We give thanks to God always for you all, making mention of you in our prayers," and then he tells them the things that give him occasion to be thankful to God for the Thessalonians.
He first of all thanks God as he remembers without ceasing their work of faith, their labor of love, and their patience or steadfastness of hope in our Lord Jesus Christ. Then he goes on to say, "We pray with thanksgiving, because we have come to confidence that you are indeed God's elect, and we know that you are God's elect not because God allowed us to peek into the secret role of His decree, but because of how the gospel came to you. He said, "Our gospel did not came not unto you in word only, but also in power, and in the Holy Spirit, and in much assurance; even as you know what manner of men we showed ourselves toward you for your sake."
Now, follow his train of thought. He said, "We give thanks to God for you, as we do we remember that God has planted in you faith, love, and hope. We remember your work of faith, your labor of love, your patience of hope. Brethren, we are confident that you are within the circle of God's elect! That confidence is borne out of the fact that when we preach to you, our gospel was not a bunch of words that bounced off your ears. It became a mighty instrument of God in which the Holy Spirit laid ahold of you!"
But Paul, how do you know that the Spirit of God worked in them? Was it that they all jumped two feet, they got tingles up and down their spine? No. He said, "We know that the gospel came to you not in word, but in power, not because of some subjective feelings you've got, but because of the objective, moral, ethical, and religious transformation that was produced by the Word of God, blessed by the Holy Spirit."
So now he begins to describe that moral, ethical, religious transformation. Verse 6:
"You became imitators of us, and of the Lord, having received the word in much affliction, with joy of the Holy Spirit; you became an ensample to all that believe in Macedonia and in Achaia. For from you hath sounded forth the word of the Lord, not only in Macedonia and Achaia, but in every place your faith to God-ward is gone forth; so that we need not to speak anything."
Now Paul says, "Look, we know that you are God's elect because of the way in which the Word came to you in power. And we know the Word came to you in power because of the transformation it made. Furthermore, [he says] not only are we aware of this. Wherever we go and we start to open our mouths and say, 'Hey, let's share what God did at Thessalonica!' They say, 'Paul, you don't have to share any news. We already heard about it.'" He says, "Wherever we go we don't even need to say what happened! The Word has gone forth about your faith to godward."
Now notice what he says: "For they themselves report concerning us what manner of entering in we had unto you, and how you turned unto God from idols to serve a living and true God, and to wait for His Son from heaven [literally, for His Son 'out of the heavens'] whom He raised from the dead, even Jesus, who delivers us from the wrath to come.
Now, do you see the train of thought? Paul has been giving thanks, along with Silas and Timothy. Maybe they had stated prayer times when they prayed for the churches, and they give thanks for their faith and love and hope, and they give thanks that they are numbered among God's elect, because the Word came in power. They know it came in power because of its ethical and moral and transforming grace evident in their lives. Now he says: "And this is not only our persuasion, but wherever we go we find people talking about how our ministry among you was blessed!" "They report concerning us what manner of entering in we had unto you."
When the report was collated and people had to give sort of a thumbnail sketch: what did the gospel do at Thessalonica? What were the moral, religious and ethical effects of the gospel when it came in power?
Paul says they focused on these three things, look at it: "You turned unto God from your idols; secondly: you turned with a disposition to serve a living and true God; and thirdly: you turned to wait for His Son out of the heavens, the very Jesus who was raised from the dead and by whose redemptive work we are being delivered from the wrath to come." So that these three things were the summarizing characteristics of their genuine conversion to Christ and to the Christian faith.
They turned to God from their idols. Whatever it was to which they gave their devotion, whether a literal idol, or whether it was the god of mammon and of things, or of reputation and friends; whatever had their supreme affection was their god. They turned from their idols, whatever those idols were, and they turned unto the one true and living God. They came home to the very purpose for which they were made. They were made to know God, made to serve God, made to love God supremely, and whatever was their idol was robbing God of His due. In their true conversion, they begin to give God His due. They turned unto God from their idols, and what is the disposition with which they turned?
To serve. Literally 'to slave' a living and a true God. Not in terms of any thought of oppression, but they saw this God as worthy of being served with all the submission and devotion of a willing slave.
In true conversion, sinners not only turn from their idols—whatever those idols may be—and unto God, but they turn with a disposition of commitment to make His will the rule of their lives, with joy.
"They report the manner of entering in we had unto you. You turned to God from your idols, and you turned not with a disposition simply ready to receive from God all the blessings of His salvation in Christ, but with a disposition of joyful submission to this God, so that His will from henceforth becomes the voluntary, chosen rule of your life, in every area."
He goes on to touch many of those areas, right down to what you do in you bedroom, and what you do with your boyfriend and your girlfriend in chapter 4.
Then he said there's a third thing which was characteristic of their true conversion. Look at it. "Not only did you turn unto God from idols to serve the living and the true God," but: "And to wait for His Son out of the heavens." Now, the verb used here 'to wait' is one of three verbs used in five of the passages we're going to look at, the sixth one uses 'loving His appearing.' But they're basically synonyms, so I'm not going to go into the subtle nuances of differences.
They all have the connotation of 'eagerly' awaiting. Not the kind of waiting you do at the dentist's office. You've got an appointment for 2 o'clock, you're in there at 5 till 2, and another patient is there, and it overlaps a little bit. You're waiting, but you sure are not waiting with an eager expectancy. Not if you're a normal human being. None of us waits in a dentist's office—unless you've got such a wretched, horrible toothache that anything is worth getting rid of the toothache. But generally speaking, it's not that kind of waiting. It's not the kind of waiting in which we are frustrated and irritated that someone is not on time.
It's the eager expectation and waiting of the beloved wife, who kissed her husband goodbye when he went off on a ship when he went off to fight in the second World War. She's heard the news that his ship is coming in at such and such a time, in such and such a port, and she's there at the place where the ship is to arrive, eagerly awaiting, anticipating her beloved.
That's the sense of the three different words which are used in these passages that we'll look at. Now Paul says, "This is the report that went out about you, people: you not only turned from your idols to God, you not only turned to God with a disposition of joyful disposition, but you had a total reorientation of what counts in life."
"You saw, in that turning and in your trust in Jesus Christ, who was raised from the dead, that what you received in your turning to God from your idols, to serve Him, was but the beginning of a glorious salvation. You longed and yearned for the completion of that salvation. You heart went out in love to the object of your faith, and you long to see Him."
The disposition that grew out of their true conversion was one of eager anticipation and waiting for the return of Jesus.
Bible Reference: 1 Thessalonians 1:9-10